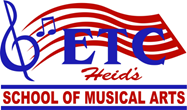 ETC School of Musical Arts is a community based organization which sponsors four performing groups. ETC Stands for Energy, Talent, and Commitment. Each group provides a unique performing opportunity, for both the performers and the audience. The goal of ETC School of Musical Arts is to provide musical education, performance training, and varied performance opportunities to its members. A positive attitude towards self, family, and community will be attained through developing an understanding of excellence and professionalism. This attitude will strengthen their character and better prepare them to meet the challenges of the future.
ETC School of Musical Arts was founded 40 years ago by Robert Heid and Robert Carlyon as an auxiliary music activity for elementary students in Stow, Ohio. From the beginning of 13 young people in grades 4 through 7, ETC has grown to encompass over 100 students in grades 3 through 12 from a three county area. After many years of moving from different community centers, schools, and churches each week, ETC is pleased to be housed at the Pinetop Building on Akron-Peninsula Road. (Thanks to the generous support of donors and foundations such as GAR, Ritchie, Brennen Family, The Waddell Family, Akron Community Foundation and others). This central location has greatly enhanced our ability to attract young performers from other communities, such as Hudson, Aurora, Bath, North Hampton, etc., and provide an opportunity for our professional staff of music educators to develop these eager and talented performing groups.
Our professional staff is made up of educators from Northeast Ohio who dedicate their talent and efforts to developing the choral sound that has long been a trademark of ETC. The added facet of ETC is the incorporation of choreography with the singing. Singing is still our first priority, but dance adds that special excitement to every performance.
We strive to provide an appropriate amount of performances each season. These include community festivals, banquets, conventions, and fund raisers. All of these public or private events give our performers ample opportunity to share the fruits of their labors and delight audiences along the way. Becoming a good performer does require work and commitment. We like to think the "E" in ETC stands for excellence as well as energy. This tradition of excellence speaks for itself in the success of our alumni, who have distinguished themselves in many professional fields, not just as performers, after graduation from ETC.
Save
Save
Save
Save
Save
Save
Save
Save
Save
Save
Save
Save
Save
Save
Save
Save
Save